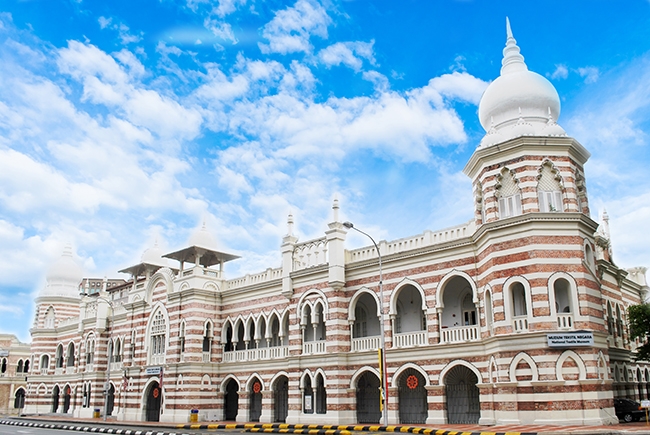 National Textile Museum is located at JKR 26, Lot 50 Seksyen 70, Jalan Sultan Hishamuddin, Kuala Lumpur, a heritage building previously occupied by various departments and institutions. The building which was completed in 1896 is 2 ½ level with an area of 3259 m2 and floor area of 3145.3 m2.
Exhibition Galleries
Pohon Budi Gallery
Pohon Budi is also known as Pohon Hayat (Tree of Life) or Pohon Beringin. It is here that the theatre of life begins. Pohon Budi, a large tree that offers shelter, becomes a symbol of history, the cycle of life and civilisation just like a tree that germinates from a seed, growing bigger, and bearing fruit in the form of useful shapes and colours. The Pohon Budi Gallery showcases the origins of textiles from the pre-historic times as well as its growth through trade. Also exhibited are the tools, materials and traditional techniques of textile-making through the processes of weaving, embroidery, batik-making, gold embroidering, knitting and beading work with particular focus on the country's predominant textiles such as the songket (a silk sarong with golden thread woven into it), pua kumbu (a traditional patterned multi-coloured ceremonial cotton cloth used by the Iban in Sarawak), telepuk (a fine cotton or silk cloth with imprinted floral motifs using gold leaf or dust), tekatan (a gold embroidery created by stitching gold thread to create a raised relief on velvets), keringkam (the traditional embroidery of Sarawak's Malays normally found on women's headscarves), linangkit (handmade decorative embroidery adorning the knee-length skirts of the Lotud people), kain pis (a richly embroidered one – metre piece of two facing pieces of cloth worn by the Rungus/Kadazandusun group as head-gear), decorative beads and batik.
Pelangi Gallery
A rainbow (pelangi) is the concave light of various strips of colours that appears in the sky. In the groupings of traditional textiles, kain pelangi is known as the royal yarn of multi-coloured cloth. Its soft colours include green, pink, yellow and blue. Pelangi Gallery symbolises the colourful rainbow strips, which can be related to Malaysia's different ethnic groups who are rich with their respective textile treasures. This gallery exhibits some of the selected heritage collections such as the different types of batiks and their growth over the years, the collection of the Chinese community, and those of the Baba and Nyonya, which are rich with their use of silk and gold threads and beadings, as well as the profusely fine and varied motifs of ethnic Sarawakian and Sabahan textile collections.
Teluk Berantai Galery
Teluk berantai (interlocking bays) is a predominant motif in the making of Malay songket. From a scattering of individual flowers, they become a harmonious design-pattern when stitched together like boxes, thus linking the individual motif to one another. Teluk berantai is a symbol of intimacy and unison of the Malays in producing an everlasting artistic heritage to this day. The Teluk Berantai Gallery exhibits the richness, finesse and beauty of the Malay heritage collections such as tekatan (gold embroidery made by stitching gold thread to create a raised relief on velvet), kelingkan (an embroidery-applique'), kain tenun (woven fabric) kain limar (an apron-like piece made of silk and worn over the kain songket), kain limar songket tenggarung (limar cloth with heavily accentuated gold thread), kain telepuk (a fine cotton or silk fabric imprinted usually with floral motifs using gold leaves or gold dust), kain berayat (scripted cloth), and various other costumes.
Ratna Sari Gallery
Ratna is an assortment of diamond, gold and other jewels. Sari is the essence and core of an important part and is usually called the saripati. Ratna Sari is a term, which aptly refers to a selected collection of jewelry borne from the creativity of artisans of yesteryears. The expertise of the Malay, Chinese and Indian artisans as well as the creativity of the Orang Asli and the indigenous groups of Sabah and Sarawak have produced adornments that are worn and inherited through the years by all the races in this country. The Ratna Sari Gallery exhibits jewelry items and personal adornments of the various ethnic groups in Malaysia made of gold, silver, copper, beads and plants, which are designed to be worn on the various parts of the body, from head to toe. Amongst them are the crown, pemeleh (dangling earrings), cucuk sanggul (hair pin), dokoh (necklace with a large concave pendant), pending (large waist buckle usually made of silver), gelang tangan (bracelet), caping (chastity plate) gelang kaki (anklet) and various others.
Visiting Hours
Opens everyday from 9 am to 5 pm. Last ticket purchase 4.30 pm
Closed on first two days of Raya Aidil Fitri and first day of Raya Aidil Adha
Entrance Fee
| | |
| --- | --- |
| Visitor Type | Price |
| Malaysian Citizen | RM 2.00 |
| Elderly and Disabled (OKU) | RM 1.00 |
| Children aged 12 years old and under (Malaysian Citizen) | Free |
| High School Students Dressed In Uniform (Malaysian Citizen) | Free |
| High School Students Not Dressed In Uniform (Malaysian Citizen) | RM 2.00 |
| International Council of Museums Members (ICOM) | Free |
| Non Malaysian Citizen | RM 5.00 |
| Children aged 6 to 12 years old (Non Malaysian Citizen) | RM 2.00 |
| Children younger than 6 years old (Non Malaysian Citizen) | Free |
Map Location
Address:
JKR 26, Jalan Sultan Hishamudin, 50050 Kuala Lumpur.