Vision
To become a leader in museum professionalism of global standards in the country.
Mission
To engage in the collection, conservation, and preservation of the nation's history, culture, and natural history.
To disseminate knowledge through activities such as exhibitions and educational museum related programs.
Objectives
To carry out works in collecting, conserving and preserving the nation's history, culture and nature.
To disseminate knowledge through activities like exhibitions, educational programmes and museum development.
This department is responsible for preserving, conserving and disseminating knowledge on the country's historical, cultural and natural heritage. This is in order to create awareness on the country's rich heritage of history, multiracial cultures and natural environment. Our aim is to create a harmonious society with high moral standards and to assist the government in promoting and developing the tourism industry.
Directions
To update and complete data on existing collections.
To provide a fully-equipped repository and conservation laboratory.
To produce authoritative research.
To provide human capital trained in the field of museology.
To organise interesting exhibitions.
To become a leading museum institution.
Functions
To research, collect, and preserve the nation's historical, cultural, and natural heritage.
To oversee museums under federal administration and offer expertise and guidance to state museums, government departments, and private museums.
To document the department's collections and publish research findings.
To disseminate knowledge and information through exhibitions, lectures, workshops, seminars, forums, conferences, and guided gallery tours.
Main Services
Collection management
Research
Knowledge dissemination through exhibitions, lectures, workshops, seminars, forums and conferences, as well as guided tour of galleries.
Conservation
Shared Values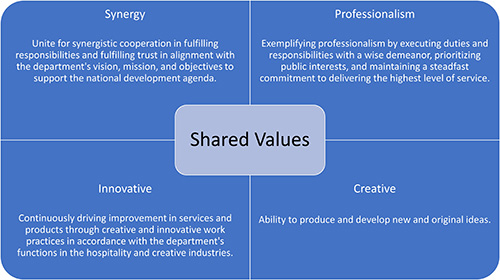 History
| | | |
| --- | --- | --- |
| No | Date | Event |
| 1. | 1883 | Museum activities began with the establishment of the Perak Museum in Taiping. |
| 2. | 1888 | Establishment of the Sarawak Museum in Kuching by Sir Charles Brooke II. |
| 3. | 1906 | Establishment of the Selangor Museum. |
| 4. | 1910 | The management of the Selangor and Perak Museums merged under the Federated Malay States Museums Department. |
| 5. | 10 March 1945 | A section of the Selangor Museum building is destroyed when it was accidentally bombed by the Allied Air Force. |
| 6. | 16 September 1958 | Appointment of an architect to design a special building on the site of the former Selangor Museum. |
| 7. | 2 January 1962 | The Yew Lee Company was appointed to construct the National Museum on the site of the former Selangor Museum. |
| 8. | 31 August 1963 | The museum's opening ceremony is officiated by His Majesty the 3rd Yang di-Pertuan Agong, Tuanku Syed Putra Al-Haj ibni Almarhum Syed Hassan Jamalullail. |
| 9. | 1978 | The Museums Department was moved from the Ministry of Culture, Youth and Sports to the Ministry of Local Government and Environment. |
| 10. | 1987 | The Museums Department was transfered to the Ministry of Tourism and Culture, which was then renamed the Ministry of Culture and Tourism, and in 1992, once again renamed as the Ministry of Culture, Arts and Tourism. |
| 11. | 11 March 1993 | The official establishment of the Department of Museums and Antiquities. |
| 12. | 1 March 2006 | The Department of Museums and Antiquities was renamed the Department of Museums. |
The list of previous Director General can be found here