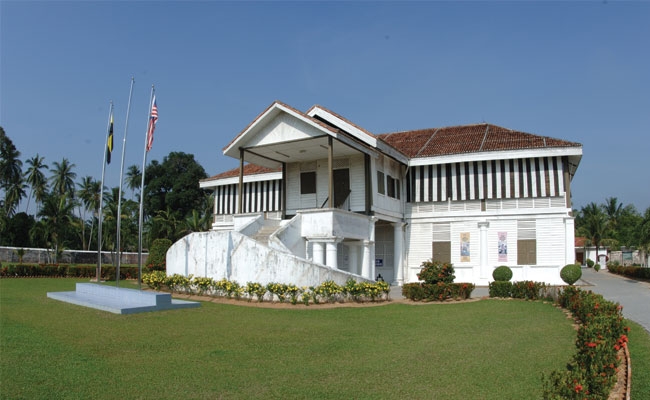 Background
Che Long Jaafar bin Dato 'Paduka Setia Abdul Latif Long was the founder of the development of Taiping City and a Malay Tin Ore Millionaire. Che Long Jaafar managed to strengthen his position as the ruler of Larut and subsequently laid a solid administrative foundation for his son, Minister Ngah Ibrahim. After the death of Long Jaafar, Minister Ngah Ibrahim moved the Larut Administrative Centre and his father's fort located in Bukit Gantang to his own fortress.
Kota Ngah Ibrahim was built in 1858 in Matang, Perak, and was formerly known as "Pematang". Minister Ngah Ibrahim has turned his fortress into a residential home, a Larut Administrative Centre, a fort, a tin warehouse and a trading center. The position of Kota Ngah Ibrahim is strategic where it is located at the intersection of road from the south, east and north. It is connected by sea route through Sungai Malawati to Sungai Larut and then to the Straits of Melaka.
Minister Ngah Ibrahim is recorded as a very rich man and his biggest income was through tin ore companies, coffee plantations in Asam Kumbang, Taiping and sugarcane plantations in Kerian. He had his own security force made up of Indian gentlemen and led by Captain T.C.S Speedy. Minister Ngah Ibrahim has equipped his fort area with infrastructure facilities such as roads and mosques.
Minister Ngah Ibrahim was sentenced to be exiled to Seychelles without trial. The deportation of Minister Ngah Ibrahim to the Seychelles caused all his wealth to be brutally confiscated so that all information related to him was deleted by the British. The British seemed to want to erase the history of Minister Ngah Ibrahim from the knowledge of the next generation. Here is the chronology of the history of Ngah Ibrahim's house.
NO

YEAR

EVENT

1

1874

Residence of Captain Tristam Charles Sawyer Speedy (Assistant Resident). At the same time, it was made a prison and a court house.

2

1913 -1922

Matang Malay Teaching College.

3

1923 -1941

Malay School.

4

1942 -1945

Japanese Army Defense Headquarters.

5

1946 - 1983

Malay School and Sekolah Kebangsaan Matang.

6

1983 - 1985 

Matang National School Extra Class (Standard 5 and 6).
Al-Quran and Fardhu Ain classes (afternoon).
KEMAS classes twice a week and once in a while used as a meeting place or gathering of villagers.

7

1985

Taken over by the Department of Museums and Antiquities Malaysia and in 2009 Kota Ngah Ibrahim was gazetted as a Heritage Building under the National Heritage Act 2005.
Collections and Galleries
Collections
The museum's collections consist of all types of artifacts related to the chronology of events leading to the establishment of the museum itself.
Permanent Exhibition
The museum's permanent exhibitions displays artifacts related to the chronology of the building's construction and the building's usage beginning from Ngah Ibrahim, English Rule, Japanese Occupation, Matang Malay Teaching College and the Malay School.
Visiting Hours
Opens everyday from 9.00 am - 5.00 pm (except on the first Monday of each month)
Closed on first two days of Raya Aidil Fitri and first day of Raya Aidil Adha
Entrance Fees
Free
Transportation
The Matang Museum is located in the vicinity of Matang, district of Taiping, Perak. Approximately 30 minutes drive from Taiping town. By calling taxi at +605 808 1697 or +6019 569 6182 By bus, at Taiping Bus Station (Bus No. 77 to Kuala Sepetang)
Nearby Accomodations
Rest House
Other Facilities
Muslim prayer room, car park, library, guided tour, research facilities and book sales
Location Map
Address:
Muzium Matang, Kota Ngah Ibrahim, 34750 Matang, Perak.