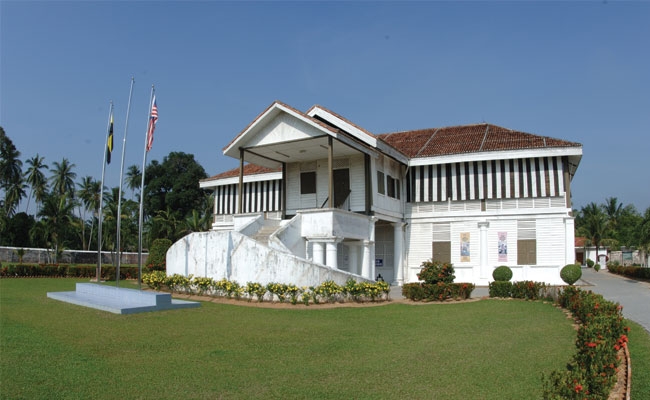 Background
The Matang Museum(formerly know as Perak State Historical Complex) is located At Matang (fromerly known as Permatang), Perak. It was built by Ngah Ibrahim, who carried the title Orang Kaya Menteri Paduka Tuan. He was the son of Cek Long Jaffar, the first Malay who opened tin mines in the Larut, Matang and Selama areas in 1840. This museum also doubled as a home, fort and administrative center and covers an area of 0.8094 hectares. This building was constructed using only rock-based materials. After Ngah Ibrahim's death in Singapore on February 4, 1895, the building was put under the English administration until it was converted into the Matang Malay Teaching College (1913-1922). During the Japanese occupation in the Malay States (1941-1945), it functioned as the Japanese Army's headquarters. After Japan surrendered and the World War II ended in 1946, it was transformed into a Malay School (1946-1984). The fort was converted into the Matang Historical Museum beginning in 1985 and was handed over to the Department of Museums and Antiquities (Now, Department of Museums Malaysia).
Collections and Galleries
Collections
The museum's collections consist of all types of artifacts related to the chronology of events leading to the establishment of the museum itself.
Permanent Exhibition
The museum's permanent exhibitions displays artifacts related to the chronology of the building's construction and the building's usage beginning from Ngah Ibrahim, English Rule, Japanese Occupation, Matang Malay Teaching College and the Malay School.
Visiting Hours
Opens Tuesday to Sunday from 9.00 am - 5.00 pm
Closed on Monday, Hari Raya Aidilfitri and Hari Raya Aidil Adha.
Entrance Fees
Free
Transportation
The Matang Museum is located in the vicinity of Matang, district of Taiping, Perak. Approximately 30 minutes drive from Taiping town. By calling taxi at +605 808 1697 or +6019 569 6182 By bus, at Taiping Bus Station (Bus No. 77 to Kuala Sepetang)
Nearby Accomodations
Rest House
Other Facilities
Muslim prayer room, car park, library, guided tour, research facilities and book sales
Location Map
Address:
Muzium Matang, Kota Ngah Ibrahim, 34750 Matang, Perak.