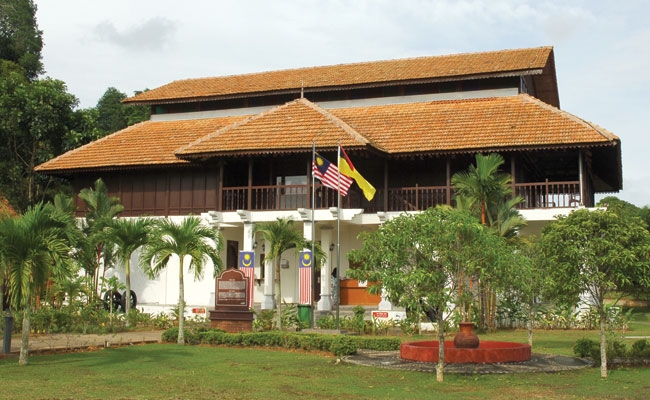 Introduction
The Lukut Museum was built by the Department of Museums and Antiquities (now Department of Museums Malaysia) in collaboration with the Negeri Sembilan Darul Khusus government with the intention of spreading information and historical proof related to Lukut. It also functions to trace back the glorious days of Lukut and its prominent individuals in the nation's history for the reference of future generations. It is also an arena to showcase important elements of the relationship between Lukut and the local political scenario surrounding it to display the function and the greatness of Fort Lukut as a defensive tract, signifying the uniqueness of Malay civilaization's architecture. The construction of this museum began end of 1997 and was officially launched by Y.A.B. Dato' Seri Utama Tan Sri Haji Mohd. Isa Bin Dato' Abdul Samad, Chief Minister of Negeri Sembilan on April 9, 1999.
Gallery of Lukut History
This exhibition presents the history of Lukut from the early nineteent century to the time it was established at a district of Sungai Ujong (Negeri Sembilan) in 1880. The area around Lukut was first pioneered, by Raja Busu member of the Selangor Royalty, who began tin mining activities there. Lukut subsequently became famous as tin mining centre and left a legacy sound of political and economic system of that time. Apart from Raja Busu, the Lukut fort gave rise to other near legendary figures such as Raja Jaafar, Raja Jumaat and Raja Bot who graced the glorious history of Lukut. It's also seeks to present the lagacy of Lukut Fort, which has now been gazetted as historical monument under the care of Department of Museums Malaysia. The various personalities and also artifacts involved in the history of Lukut a represented by way of illustrations, photographs and artifacts to be viewed by the visitors.
Visiting Hours
Opens everyday from 9.00 am - 5.00 pm (except on the first Monday of each month)
Closed on first two days of Raya Aidil Fitri and first day of Raya Aidil Adha
Admission is FREE.
Facilities
1. Parking area
2. Guided tour (contact our officers for the application)
3. Canteen
4. Children playground
5. Free public rest room
Location Map
Address:
Muzium Lukut / Lukut Museum Jabatan Muzium Malaysia (Wilayah Selatan) Lot 730, Kota Lukut, 71010 Port Dickson, Negeri Sembilan Darul Khusus.