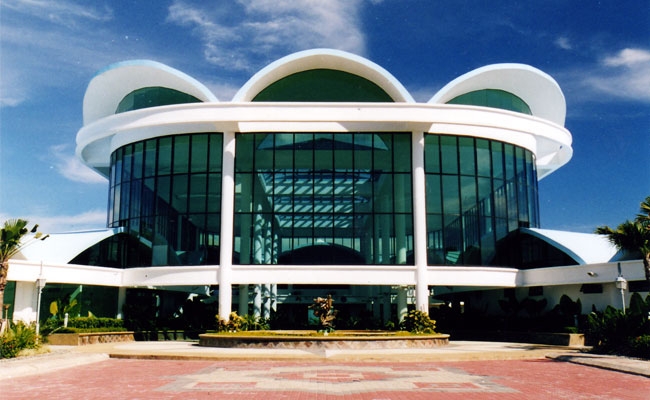 Background
The Marine Museum is one of the components of the Labuan International Water Sports Complex, a newly-opened, internationally-recognized recreation and water sports center.
Collections and Galleries
The Marine Museum will focus on marine life around Labuan Federal Territory, namely Labuan and generally Borneo. It is housed in shell-shaped, two-storey building and is divided into 16 galleries. It starts from general information on marine life in Labuan waters, Labuan's advantages as a marine kingdom or marine paradise followed by expositions on the marine life's habitats (swampy habitat, seashore habitat, coral reef habitat ans sea/ocean habitat), fishing activities and lastly research results and publications related to Labuan fishing activities.
Also created is a discovery room specially geared towards chilren's education. The objective is to turn Marine Museum into a scientific reference center as well as to educate visitors on the importance of preserving and appreciation of nature's gift (the do's and don't's aspects). Exhibition items will cover live specimens and preserved species of fish, sea corals, snails and moluscs, reptiles and zoo planktons, sea plants, artifacts from shipwrecks, sea research through the aquarium method, touch-pool, video wall, graphics, models, posters and charts.
Visiting Hours
Opens daily from 9.00 a.m. - 6.00 p.m.
Entrance Fees
Free
Transportation
Located 10 minutes drive from the nearest lodging facilities, Hotel Waterfront and Hotel Sheraton, and can be visited by boarding bus #1 from City Center.
Other Facilities
Spacious parking space outside of complex, muslim prayer room, recreational and picnic area, mini parks, observation tower, marina, fast-food outlets, food stalls and souvenir stores
Location Map
Address:
Labuan Marine Museum, Jabatan Muzium Malaysia Wilayah Labuan, Kompleks Sukan Air Antarabangsa Labuan, Jalan Tanjung Purun, 87008 Wilayah Persekutuan Labuan.