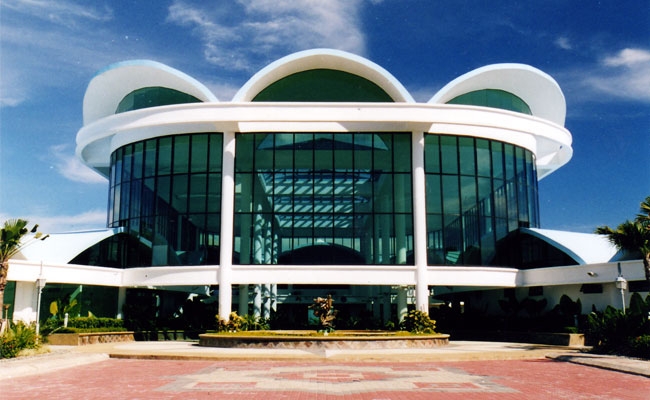 Background Information
The Labuan Marine Museum was officially launched on January 26, 2003 by the Minister of Culture, Arts, and Tourism Malaysia, YB. Dato' Paduka Abdul Kadir B. Sheikh Fadzil. The Labuan Marine Museum specialized in marine life exhibition and it is the first museum of this concept in Malaysia. This museum was planned to be established in early 1990s, but it's becoming reality in 2000s after the Labuan Corporation offered a space in Labuan International Sea Sports Complex. The construction works of this museum started in August 2001 and completed in July 2002. 
Objectives
To provide information and knowledge on marine lives found in Borneo water particularly in Labuan.
To raise awareness, responsibility and love among our society to care the natural heritage.
To develop a Labuan Marine Museum as an information centre on marine life biodiversity for future generations.
To increase the number of tourism products in the Federal Territory of Labuan.
Exihibition Gallery
The Labuan Marine Museum consists of two levels of galleries. The interior design of the gallery is inspired from the naval ship structure. The lower level is divided into 4 sections which begin from the marine life exhibition showing various species of local fish in Labuan, information section showing facts of the 4 famous shipwrecks in Labuan water, coral and fish section and mangrove section showcased that features habitats found in mangrove in the form of a diorama. This gallery also houses 14 aquariums of varying sizes and a touch pool that offers visitors with a unique opportunity to touch and experience a varieties creature such as sand shark, black tip shark, king crab, starfish, snails, and stingrays. The upper level displays information on coral reef biodiversity, invertebrate marine animals, stingrays, sharks, sea reptiles, 'ikan pelagik' and 'damsel', molluscs, crustaceans, sea mammals, sailfish, diving gears, traditional and modern fishing tools, as well as fishing devices for dangerous creatures. Also 3 aquariums for coral reefs and one for the popular Spotted Murray Eels (gymnothoras isingteena) 
Collection
This museum features 572 collections consisting of marine specimens and contemporary items such as fishing tools, diving gear, and oceanography technologies. The main attraction of the gallery is the 100 years old, 42-foot skeleton of an Indian Fin whale found on Sebatu Beach, Malacca. It was once exhibited in Raffles Museum, Singapore and the National Museum of Malaysia before transporting to the Labuan Marine Museum. Other collections include a replica of dugong and 2 Spotted Murray Eels, which have been exhibited since 2003. 
Services
Guided tour is available upon request
The collection of CDs/DVDs/books published by the Department of Museums Malaysia available for purchase
Visiting Hours
Opens everyday from 9.00 am - 5.00 pm (except on the first Monday of each month)
Closed on first two days of Raya Aidil Fitri and first day of Raya Aidil Adha
Entrance Fees
Free
Transportation
Located approximately 7 minutes from Hotel Billion by taxi or car and visitors can take a bus number 1 from Labuan Town 
Other Facilities
Car park
Prayer Room
Toilets
Food Court
Recreational Park
Nearby Attractions
Labuan Clock Tower
Tanjung Purun Beach
Labuan Botanical Garden
World War Two Cemetery
Accommodations
Dorsett Hotel, Labuan
BETA Apartment
Billion Hotel
Other hotels in Labuan town.
Location Map
Address:
Labuan Marine Museum, Jabatan Muzium Malaysia Wilayah Labuan, Kompleks Sukan Air Antarabangsa Labuan, Jalan Tanjung Purun, 87008 Wilayah Persekutuan Labuan.