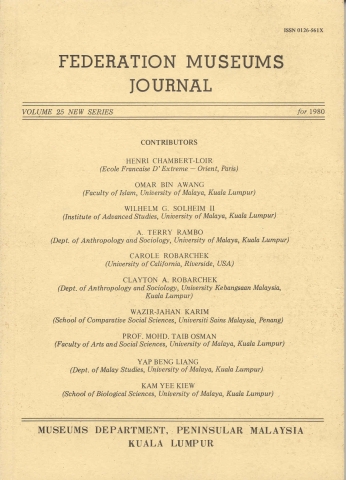 No Rujukan/ Reference No. :
Tahun diterbitkan/Year Published:
Sinopsis/Abstrak:
The journal contents of articles such as Malay (And Some Other) Manuscripts In The 'Muzium Negara'; The Trengganu Inscription As The Earliest Known Evidence Of The Finalisation Of The Jawi Script; Searching For The Origins Of The Orang Asli; Of Stones And Stars: Malaysian Orang Asli Environmental Knowledge In Relation To Their Adaptation To The Tropical Rain Forest; Cognatic Kinship And Territoriality Among The Semai-Senoi; The Nature Of Kinship In Ma'Betisek Of Peninsular Malaysia; The Affinal Bond: A Review Of Ma'Betisek Marriages; Children Of The Garden: Concepts Of Size, Space And Time In Child Socialization Among The Ma'Betisek And The Malays; Abdullah's Accounts Of His Visit To The P.S. Sesostris; System Kekerabatan Orang Bajau And Also The Cultivation And Uses Of Zingiberaceae In Malaya. Journal contents are available in English only.