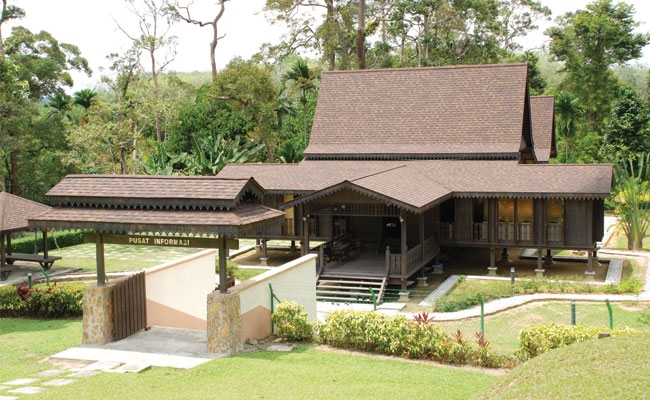 Background
Kota Johor Lama Historical Museum is administered by Department of Museums and Antiquity (now Department of Museums Malaysia) since 1970. Literature on this historical fort can be found in:
1. Excavation by G.D.G. Sieveking, C.A. Gibson Hill and Whitley in 1954.
2. Written research by I.A. Macgregor (Journal of the Malayan Branch Royal Asiatic Society in 1954).
3. The Johor Heritage Journal in 1997.
4. Iesnordin bin Hj. Malan - Historical Sites in Johor. Unpublished Report 1994.
Kota Johor Lama is located at the left-side shore of the Johor River, about 27 km from Bandar Kota Tinggi or roughly 30 km by land via Desaru to Teluk Langat. The fort is situated in a rubber estate area on the shores of the Johor River. There are also a few Malay settlements such as Teluk Sengat Village and Johor Lama Village. The history of Kota Johor Lama began in 1540 whn Sutan Alauddin Riayat Shah II (the second King of Johor 1528-1564) moved to Tanjung Batu which was just beside the Johor River. He then built a "kota" (fort) from fortified rocks.
With the construction of the fort, the kingdom of Johor became a powerful one, able to fend off attacks from the Achehnese several times. Paulo de Lima Pareira reported that during those clashes, the Portuguese totally destroyed the Kota Johor Lama administrative center, its fort and burned them down. He then proceeded to confiscate 800 cannons made of gold, silver and bronze; 1,200 small and big boats etc. According to him, the ship carrying the war bounties sank in Indonesian waters.
Since then, the administrative center in Tanjung Batu and its stone fort ceased to be used as the capital by subsequent Johor rulers. Kota Johor Lama was forgotten for a while until Sultan Ibrahim's (1677-1685) rule. In 1678, Laksamana Tun Abdul Jamil Paduka Raja (Sultan Ibrahim's father-in-law) came to Johor Lama from Siak and killed the Temenggong. Sultan Ibrahim tried to rebuild Johor Lama and shift his administrative center there. Unfortunately, that was never achieved, for he died in Riau on Feb. 16, 1685. Kota Johor Lama then became the temporary residence of Sultan Mahmud Shah II (1685-1699). His adminstrative center at the time was at Pasir Raja, Kota Tinggi (now Kampung Makam). After his death, Kota Johor Lama ceased to be used.
The significance of Kota Johor Lama in the history of Johor Malays' Sultanage is not to be seen lightly. It twice became the state's capital, once for a period of 24 years under the rule of Sultan Alauddin Riayat Shah (1540-1564) and the other during the peak of Sultan Ali Jalla Abdul Jalil Shah, spanning 13 years (1574-1587). Today, all that remain are the ruins of a once proud and mighty fort, constantly maintained and conserved. All the prosperity and and the pride of the Kota Batu Malay Sultanage has been replaced by a settlement, engulfed in peace and tranquility.
Sultan Alauddin Riayat Shah II finally tasted defeat in the hands of Acheh under Sultan Alauddin Riayat Shah Shah Al-Qahhar in a vicious battle. Sultan Alauddin Riayat Shah II was then brought to Acheh and was handed the death sentence in 1564. In 1564, with the Sultan of Acheh's permission, the late Sultan Alauddin Riayat Shah II's son, Radin Badar, was appointed as the third Sultan of Johor after Sultan Muzaffar Shah. After residing in Kota Johor Lama for a year, he shifted the administrative center to Seluyut until his death in 1570. He was replaced by Sultan Abdul Jalil Shah I. He was only eight when he was appointed and all administrative matters was handed over to the Bendahara Seri Maharaja Tun Hisap Misai.
Sultan Abdul Jalil Shah 1, the fourth Sultan of Johor, died after only a year of being appointed, in 1571. Raja Umar was appointed to be the fifth Sultan of Johor with the title Sultan Ali Jalla Shah II. He ruled from 1571-1597. In 1593, he again took residence in Kota Johor Lama and repaired the fort that was left untended for nine years (1564-15773). During his rule, Johor was again on good terms with Acheh. This relationship was not in favor with the Portuguese in Malacca, and they took action by attacking Kota Johor Lama in 1576 and 1578. Both of these attacks were successfully defended by the Johorian army. During Sultan Ali Jalla Abdul Jalil's rule, he launched a few attacks on the Portuguese in Malacca.
Were it not for the additional support of the Portuguese from Goa, India, Malacca would surely have been re-conquered. Johor, considered a threat to the Portuguese in Malacca, was finally attacked and defeated by the Portuguese in August 15, 1587. Johor Lama was surrounded and besieged for nearly a month by a large batallion of Portuguese army under the command of Siamo de Abreu de Antonio de Noroha. Sultan Ali Jalla Abdul Jalil retreated and built a new administrative center in Batu Sawar until his death in 1597.
Visiting Hours
Opens everyday from 9.00 am - 5.00 pm (except on the first Monday of each month)
Closed on first two days of Raya Aidil Fitri and first day of Raya Aidil Adha
Admission is FREE
Facilities
1. Parking area.
2. Guided tours (upon request).
3. Public rest room.
Map Location
Address:
Muzium Kota Johor Lama, Jabatan Muzium Malaysia (Wilayah Selatan) Lot 1468, Kampung Johor Lama 81940 Kota Tinggi Johor Darul Takzim.