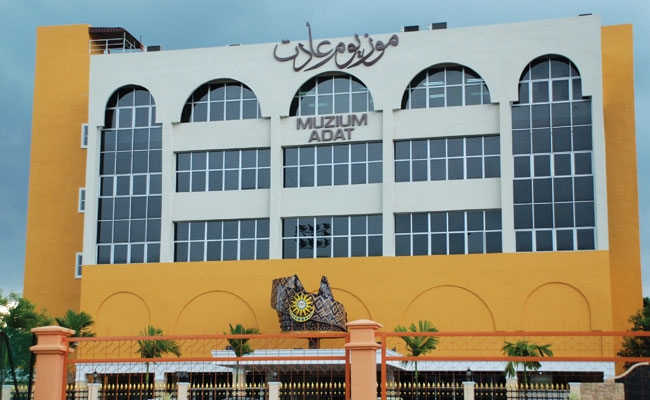 Background
The formation of the first Custom Museum in Malaysia was the brainchild of the Honorable Datuk Seri Utama Dr. Rais Yatim, Minister of Culture, Arts and Heritage Malaysia. Custom Museum was officially opened on February 2, 2008 by Undang Luak Jelebu, Dato' Mendika Menteri Akhirulzaman Dato' Musa bin Wahab with Minister of Culture, Arts and Heritage Malaysia, Datuk Seri Utama Dr. Rais Yatim and Menteri Besar of Negeri Sembilan, Dato' Seri Utama Mohamad Hasan. This museum, standing in Kuala Klawang, in the district of Jelebu, is located 30km from town of Seremban. The museum houses four exhibition galleries featuring to collate the various facets of the lifestyle of the Malaysian Society relevant to and which is definitive of the image and identity of Negeri Sembilan as Land of Custom.
Collection And Galleries
Gallery Ground Floor – Introduction of Adat
This gallery provides a general overview on the introduction, definition and the concept of custom; the categories of custom, as well as the various races in Malaysia and their respective custom and practices.
Gallery Level One – Life Cycle
Showcases the custom and practices related to the human life cycle which includes birth, marriages, death and economic activities as well as ritual practices of Malaysian society, and also music as the manifestation of custom.
Gallery Level Two – Intellectual Tradition / Government and Power
This level showcases the intellectual activities of the Palace and the people as well as the institution of the Malay monarchy.
Gallery Level Three – Adat Perpatih
A special segment that showcases the custom of temporary emigration of the Minang community from Minangkabau until their eventual settlement in Negeri Sembilan and the sanctity of the Adat Perpatih within the social structure.
Visiting Hours
Opens everyday from 9.00 am - 5.00 pm (except on the first Monday of each month)
Closed on first two days of Raya Aidil Fitri and first day of Raya Aidil Adha
Entrance Fees
Free
Guided Tours
Free one hour guided tours led by museum officers. Reservation needed for groups and school groups, please contact 06-613 6621.
Transportation
By Bus : City Liner from Terminal 1, Seremban to Kuala Klawang (RM4.00)
Accomodation
1. Sri Klawang Hotel (Tel : +606-613 8576)
2. Gading Rapid Resort (Majlis Daerah Jelebu : 06-6136479)
3. Klawang Homestay (Mrs. Siti Hawa : 012-3364301 / 06-6136690)
Nearby Attractions
1. Jeram Toi (Toi Rapid)
2. Mount Besar Hantu
3. Lata Kijang
4. Jeram Gading (Gading Rapid)
5. Klawang Homestay
6. Kampung Dulang Mosque
7. Tomb of Moyang Salleh
Book Shop
Visitors can buy the collection of books which publication by Department Museums Malaysia.
Other Facilities
1. Library / Reference Services.
2. Car park.
3. Surau.
4. Mini stage.
5. Guided tours can be arranged, upon prior notice.
Location Map
Address:
Customs Museum Jabatan Muzium Malaysia 196, Jalan Dato' Umbi, 71600 Kuala Klawang, Jelebu, Negeri Sembilan Darul Khusus.