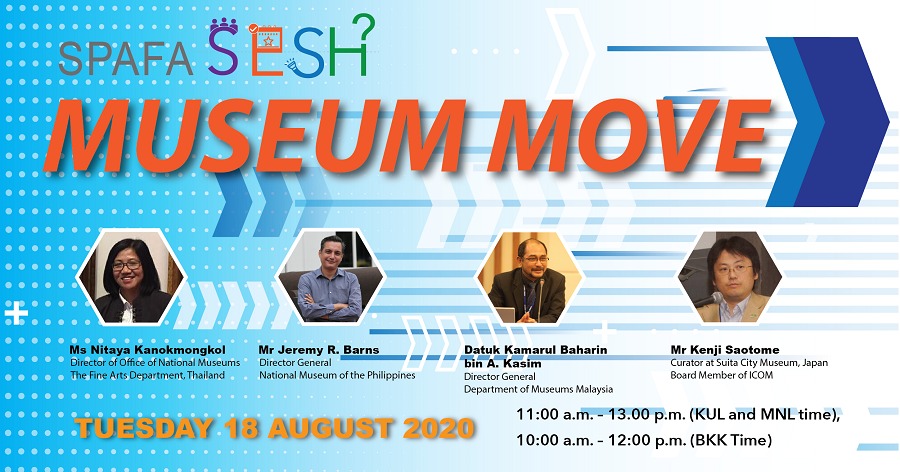 Date: 18 August 2020
Time: 10:00 a.m. – 12.00 p.m. (Bangkok time), 11:00 a.m. – 1:00 p.m. (Kuala Lumpur and Manila time)
Online Platform: Facebook Live https://www.facebook.com/seameo.spafa/ and on Zoom (Please register for Zoom link)
Every once in a while, there are occurrences affecting our planet earth, whether natural or human-induced, and leaving indelible marks on our ways of life. Currently, there are a wide range of contemporary concerns, such as climate change, political issues, discourses on race, and recently the pandemic situation.
Museums, as institutions for society and the people living in it, are in constant search of how these phenomena change our society in order to reassess how to fulfill their role in serving the public. Thus the definition of the museum has to always be re-adjusted to strengthen its role in meeting every new situation.
During this pandemic period, museums have had to close their doors to the public. Some may have already reopened, with many adjustments having to be made to meet the safety requirements needed for their visitors. In these new circumstances, how have museum professionals (directors, curators and other practitioners) been re-thinking the museum's new move in response to the contemporary context, whether physically or conceptually?
Guests:

1) Ms Nitaya Kanokmongkol, Director of Office of National Museums, The Fine Arts Department, Thailand

2) Mr Jeremy R. Barns, Director General, National Museum of the Philippines

3) Datuk Kamarul Baharin bin A. Kasim, Director General, Department of Museums Malaysia

4) Mr Kenji Saotome, Curator at Suita City Museum, Japan; Board Member at International Committee for Regional Museums, International Council of Museums (ICOM); Board Member at The Museological Society of Japan and The Japan Society for Exhibition Studies
Moderator: Mrs Somlak Charoenpot, SEAMEO SPAFA Centre Director
[Discussion will be conducted in English]
Event Date:
Tuesday, 18 August, 2020 -