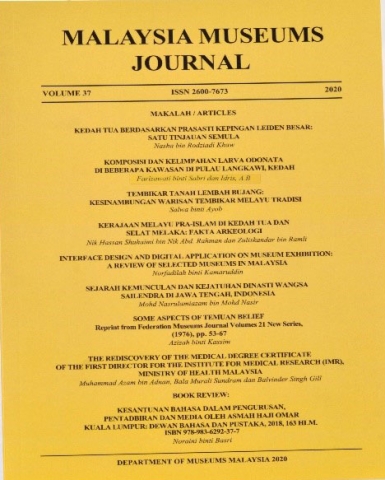 No Rujukan/ Reference No. :
Tahun diterbitkan/Year Published:
Sinopsis/Abstrak:
Malaysia Museums Journal adalah jurnal terbitan Jabatan Muzium Malaysia. Penerbitan berkala ini juga mengetengahkan peranan penting yang dimainkan oleh muzium untuk menjalankan penyelidikan disamping menjadi sebuah institusi pendidikan tidak formal. Jurnal ini memaparkan hasil kajian dan pembentangan yang telah dilaksanakan oleh professional atau pengamal muzium dari pelbagai latar belakang serta mereka yang mempunyai kepakaran kursus dalam bidang permuziuman.
Memuatkan lapan kertas kerja dan satu ulasan buku yang telah dibentangkan dalam beberapa siri seminar dan forum berkaitan sejarah, koleksi, budaya dan pendidikan muzium. 


Malaysia Museums Journal is a journal published by the Department of Museums Malaysia. It is a publication that highlights the important role played by museums in carrying research as well as a non -formal educational institution. The content is the results of research that has been carried out and presented by museums professionals and practitioners from various educational backgrounds as well as those with expertise in the field of museology.
It contains eight papers and a book review that has been presented in several seminars and forums related to history, collection, culture and museum education.